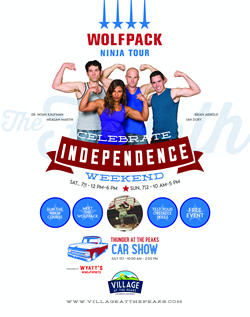 What: "Thunder at the Peaks Car Show" - Flyer (pdf)
Where: 1250 South Hover Road Longmont, CO 80501 (Wyatt's Wet Goods)
When: July 1st,10:00am - 2:00pm
Admission: Free for all! - A suggested donation of $10 upon entrance (on the morning of the event)
Registration: Register Online
Description: Come cruise with Cruisin' Dave at the Thunder at the Peaks Car Show! Proceeds to benefit the Larimer County Search & Rescue.
Wyatt's Wet Goods will provide a gift certificate equal to the price of a 375ml of Crown Royal (A $19.99 Value) for the first 72 car entrants as a thank you for your donation to the Search and Rescue organization.
There will be pancake breakfast provided by Village Inn and lunch will be provided from Fuzzy's Taco shop.
Prizes will be awarded for five different categories. Winners of each of the five categories' will receive a $100 gift certificate to Wyatt's and the winner of 'Best of Show' will win a free 50'' TV. All registrants will be entered into a drawing for the chance to win a 40'' flat screen TV and a $100 gift card to Wyatt's Wet Goods!